15K: March 2, 2024 at 8:00 AM
Please arrive early to allow time to park and get to your Wave Staging Area.
Wave starts begin at 8 AM (See start layout below).
Important information to know:
(Please arrive early so you will have time to park and get to your starting location. Traffic will be heavy.
Every participant will receive a men's or women's technical, moisture wicking shirt.
Medals will be given to all finishers in the 15K.
Make sure to wear your race number on the front of your clothing. This is the only way to be identified for online pictures.
Bag check will be available near the finish.
15K Start
All waves will start on Duval Street in front of the Jacksonville Fairgrounds. The start times for Waves 2, 3, and 4 are estimated starting times.  The actual time may be earlier so be in your start area 15 minutes prior to your estimate starting time.
The elite women start at 7:54 AM (Top 25 seeded women)
8:00 AM (USA 15K Championship bibs under 200 in yellow section and Wave One
Wave One -Also includes: Blue, Red, Green, Orange and Black – ( Bibs 201 to 4,000) – 8:00 AM
Wave Two – Grey Wave ( Bibs 4001 – 9000) – 8:05 AM
Wave Three – Purple ( Bids 9,001-13,000) – 8:10 AM
Wave Four – Pink ( Bibs 13,000 -15,000) 8:15 AM

Walkers should line up in the back of their wave
Course Information
All miles will be marked and digital clocks will display the elapsed time at each mile mark. Water Stations and toilets will be located throughout the course, and entertainment will be provided each mile during the race.
Bikes and dogs are not allowed on the course under any circumstance. Biking next to a runner could lead to the runner being disqualified.
Course Time Limit
All 15K participants need to be to the Hart Bridge, which is at mile 7.5, by 10:30 AM. This is a 20 minute/mile pace.
---
Overview of Start, Finish and Post Race Area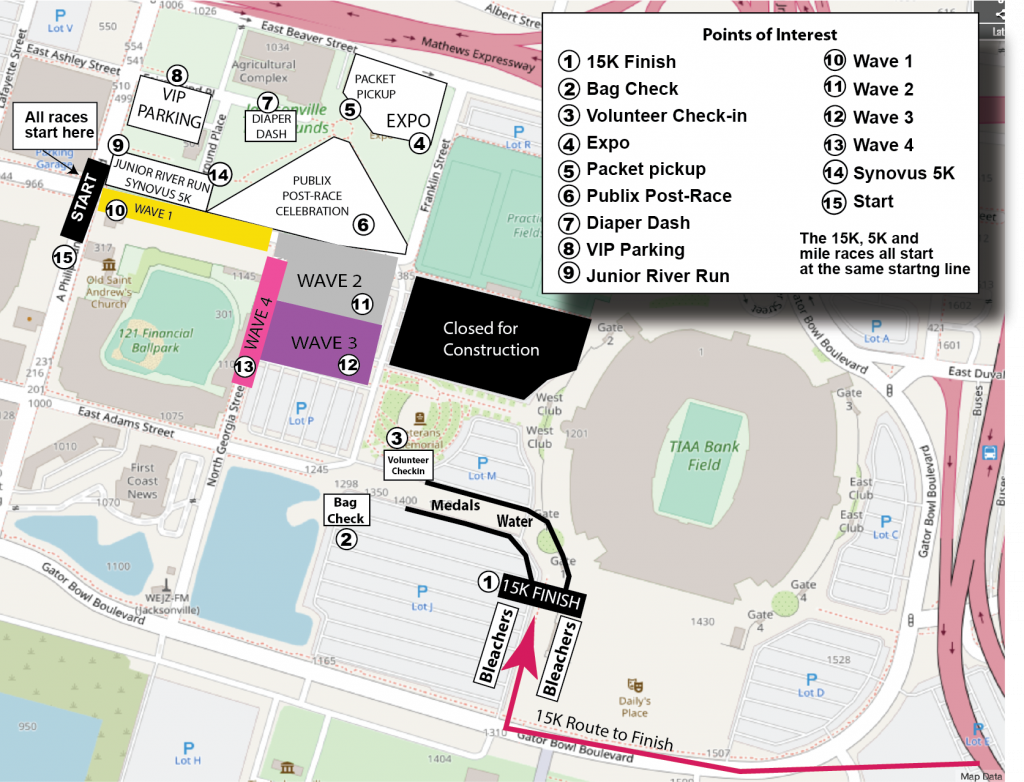 ---
15K Top 4000 Seeded Section
You have to run a qualifying time in a previous race to start in Wave 1.
Seed Numbers: 1 – 4,000
Seeding Section Registration Rules and Guidelines
You are able to submit qualifying times from races between January 1, 2023 and the date you register.
Once you have registered and submitted your qualification information, we will not accept any other qualifying time!
You cannot submit your entry as non-seeded, run a qualifying race, and then try to switch your entry. Only those who register for the Seeded Section will receive Seeded Numbers.
Any qualify times that can not be verified or are incorrect will automatically be removed from Wave One and placed in the appropriate Wave.
There are absolutely NO EXCEPTIONS to these rules. It is your responsibility to read and understand the guidelines.
Don't wait too long to send in your entry!
Seeded Sections fill up quickly! Do not wait too long to submit your registration, or the seeded section you were qualifying for might already be full! Once a seeded section is full, any additional qualifying runners will be seeded in the next available zone behind the requested zone.
Four Wave Start for 15K
Wave 1 – Bibs 1 to 4,000
There are 5 zones in Wave One. Runners will be placed into one of the Colored Zones (Yellow, Blue, Red, Red, Orange and Black) based on the qualifying time they submit during registration. You must submit a qualifying time of 10 minute/mile pace and faster during registration to qualify for this wave. You may use last year's GRR time to qualify, but proof must be submitted at time of registration.
Please do not register for Wave 1 before you have qualified.
Yellow Wave ( 1 – 200 seeded spots)
Qualifying standards (must run under listed time):
| | | | | | | |
| --- | --- | --- | --- | --- | --- | --- |
|   | 5K | 5 Mile | 10K | 15K | Half Marathon | Marathon |
| Men | 17:00 | 29:00 | 37:00 | 56:00 | 1:21:00 | 2:49:00 |
| Women | 20:00 | 32:30 | 41:00 | 63:00 | 1:31:00 | 3:10:00 |
Top 4000 Seeding
Each wave has a limited number of spaces.  Once filled qualifiers will be moved the next available wave.
 Wave
5K
5 Mile
10K
15K
10 Mile
Half
Marathon
Blue
Under
21:00
Under
36:00
Under
45:00
Under
1:08:00
Under
1:15:00
Under
1:38:00
Under
3:30:00
Red
Under 25:00
Under 42:00
Under 50:00
Under 1:15:00
Under 1:24:00
Under 1:46:00
Under 3:45:00
Green
Under 28:00
Under 45:00
Under 56:00
Under 1:26:00
Under 1:34:00
Under 2:05:00
Under 4:15:00
Orange
Under 30:00
Under 48:00
Under 60:00
Under 1:32:00
Under 1:40:00
Under 2:12:00
Under 4:25:00
Black
Under 32:00
Under 52:00
Under 64:00
Under 1:38:00
Under 1:47:00
Under 2:20:00
Under 5:00:00
Waves 2, 3 and 4 
Select your wave based on the pace you plan to run for the entire race.
Wave 2  – Grey Wave – 5,000 starting positions
1. To run in this wave you need to be able to run 9 consecutive miles between 10 and 10:59 pace.
2. Your estimated finish time would be between 1 hour and 30 minutes to 1 hour and 42 minutes
3. Walkers are not allowed in this wave
Wave 3  – Purple Wave – 4,000 starting positions
1. To run in this wave you need to be able to run 9 consecutive miles between 11 and 11:59 pace.
2. Your estimated finish time would be between 1 hour and 41 minutes to 1 hour and 52 minutes
3. Walkers are not allowed in this wave
Wave 4  – Pink Wave – 4,000 starting positions
1. This wave is for anyone who expects to finish the race in over 1 hour 52 minutes
2. . All Walkers should be in this wave and start behind any runners that are in this wave.
---
15K Disabled Athlete Divisions
Three Classes
Handcycles
Push Rims (Wheelchairs) Paras
Push Rims-Quads
All classes will start together ahead of the Elite Women. Athletes with a certified disability can ride in the Handcycle class on three wheeled recumbent cycles.
Parking
There will be a dedicated Disabled Competitors Parking Area near the starting line, and all disabled competitors will receive a parking pass. These will be available in the Race Packets, plus a general instructions sheet, also in the packet