!doctype html>


Hosted by:



Race Instructions

The 44th running of the Gate River Run is just over month away! We are planning another great event for all involved. Below are the race instructions and layouts of the start and finish areas. Please review and familiarize yourself with what you need to do and where you need to be prior to race week. We will have a lot of social distancing procedures in place. Those procedures are covered in these instructions. We want to make the event as safe as possible. With your help I am sure we can accomplish that goal.

Doug Alred, Race Director
Packet Pick Up
Jacksonville Fairgrounds Expo Halls - 510 Fairgrounds Place
Wednesday, March 17th, Thursday, March 18th and Friday March 19th
Out-of-town runners pick up will be held on race morning at large tent in parking lot P next to Jaguars practice field.

Quick Rules to Follow during Packet Pick Up:
You can only pick up your race packet during the two-hour session you selected when you registered. See link below to verify the date and time you selected.
You must wear a mask over your nose and mouth at all times when inside the packet pickup and expo area.
You will have your temperature checked and be required to answer a few Covid questions prior to entering the expo halls.
Please try to keep your 6 feet of social distance at all times.
Parking on Wednesday, Thursday, and Friday will be in Lot P directly in front of the Fairgrounds between the baseball field and TIAA Bank Field
Enter the Fairgrounds though main gate at corner of Duval and Franklin Streetsnext to practice field.
Parking is free.
Important note: You can not pick up someone else's bib without a completed Authorization Form.

U

se this link to download form.
Quick links
Look up your bib number, packet pick up day and time and your start wave color and start time.
Parking lot and Start / finish layout
Start Layout - Two different starting lines
Registration pickup area at expo
Finish Layout
Direct Link to results

We can not make changes to your packet pickup time.



Note: The Jacksonville Fairgrounds property will not be open on race day. The VIP parking lot off Randolph will be open, but you must exit using the same gate that you used to enter with your vehicle.

Start Line Locations and Start Times
We will be starting the 15K from two separate starting lines. Masks will be required to enter the starting area. You can remove your mask once you start running, but keep it with you as you will be required to put it back on in the finish area.



Duval Street Starting line - directly in front of Fairgrounds
Invited Elite Women - Start at 7:54 AM
Invited Elite Men - Start at 8:00 AM
Blue Wave -8:01AM
Green Wave - 8:05 AM
Yellow Wave - 8:10 AM
Purple Wave - 8:15 AM- line up in parking lot N next to Jaguars practice field
Each wave will be moved up to the starting line prior to starting.

Randolph Blvd. Starting Line - This is the road that runs from Bay Street to Duval Street near Intuition Ale Work.
Red Wave - 8:01 AM
Orange Wave - 8:05 AM
Black Wave - 8:10 AM
Pink Wave - 8:15 AM - line up on Adams Street next to baseball field.
Each wave will be moved to the starting line prior to starting.

Please wear your mask over your nose and mouth at all times when waiting in your starting wave.
See start wave layout below.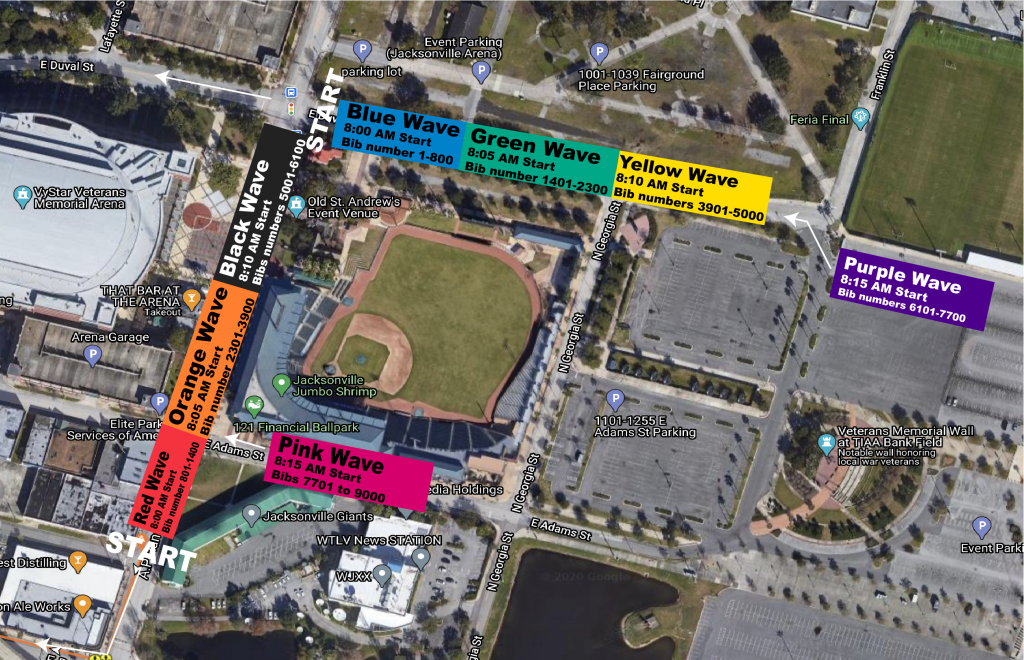 Finish Line and Finish Instructions

15K Finish
The 15K will finish on the north side of the stadium, which is the same location as last year.

See Finish layout link above.
Please make sure your race bib is visible and is on the front. Photographers will be taking your pictures at the finish (see photo link below). If your number is not visible, you will not be able to retrieve pictures.
Please do not fold, bend, or cover up the bib for best timing chip performance.
Do not stop at the finish. Keep moving until you get to the water behind the finish.
Please put your mask back on as soon as you cross the finish line
Top 10% Hats
You will not be able to claim a top 10% hat unless you are wearing a mask.
Top 10% hats will be given out behind the finish line. Men's hats will be on the right and women's hats will be on the left. We are predicting the top 10% cutoff times for men to be around 70 minutes and 82 minutes for females.

Medals - All finishers in the 15K will receive a medal at the back of the finish line.

You must have your mask over your nose and mouth before you can enter the medal distribution area

.

Medical - A large medical area will be located inside Gate 2 behind the finish line.

Post-Race Celebration
Due to the current pandemic we will not have a post-race celebration this year. Once you exit the finish area please move quickly to your vehicles.


Results
The best way to get the results is to use the direct link This will avoid overloading 1stplacesports.com, which will also have the results. You can also get results on the 1st Place Sports and Gate River Run apps. These are free downloads from your favorite app store.

Live results will be posted at the links above as the race progresses. We will be posting splits for the 15K from the 5K, 10K and one mile to go points. We will be timing your last mile off the top of the Hart Bridge.

15K Awards
We will not have an awards ceremony this year.

Age group awards may be picked up at the awards tent located in parking lot N (same tent as race day packet pickup) 9:30 AM until 11 AM . Age group awards will be available for the top 5 in each male and female age group from 13 and under to 80 and over.

Bus Transportation
We will not be providing bus transportation this year.

Water Stations
We encourage you to bring your own water to be as safe as possible. We will provide water in cups at the start and several points along the course.

Pictures
Individual pictures will be available at:



5K for Charity information.

5K starts at 10 AM. Will start in one wave.
Start is on Duval Street at the corner of Randolph.
Course runs downtown and back.
Water station at half way point in the run/walk.
You will finish back at the starting line on Duval Street..